Quiet quitting became a catchphrase in 2022, if not necessarily a trend. But some workers say that the real issue is that their employers have not allowed them to engage.
Workers are hoping for more and better communication from their managers and employers this year, a report released this week finds. The research was conducted in late 2022 for Offsyte, a platform that helps companies organize events for employees.
Approximately one-third of workers reported they are looking for career-growth opportunities. A similar percentage said they want to take on more responsibilities at their current job in 2023, and learn new skills, the Offsyte report found. 
"Workers are hoping for more and better communication from their employers this year."
Among the employees polled, 42% reported that they felt their managers didn't listen to their concerns. That perception was even higher among people who work on site, with 46% saying their concerns were ignored, compared with 38% of remote workers and 37% of hybrid workers. 
Younger workers in particular responded that they wanted better communication, with 54% of employees ages 18 to 34 saying they hoped their employers would be more transparent in 2023.
"I think they just are looking for ways and instructions from employers to teach them and guide them on how to build relationships with their co-workers," said Emma Guo, Offsyte's co-founder and CEO.
The top three things workers say they want from their employers in 2023 are a stronger focus on employee well-being (47%), more transparency (46%) and more team-building activities that will improve collaboration (38%), the report added.
Employers and managers face disengagement from workers
Around the country, managers and employers said their workers are requesting better work-life balance, such as taking more vacations and being more likely to say no to working on weekends. 
Employee stress reached an all-time high during the pandemic, according to Gallup's 2022 state of the global workplace report, but worker engagement fell, with only 33% of U.S. employees saying they felt enthusiastic and involved at work, the report said. That comes at a financial cost. 
"Continuous and frequent communication happens relatively rarely at many companies."
"Low engagement alone costs the global economy $7.8 trillion. The relationship between well-being and engagement is vital because how people experience work influences their lives outside work, and overall well-being influences life at work," the Gallup report stated.
Since the start of the pandemic in early 2020, many workers have been juggling work and other domestic responsibilities. Women especially have said they feel burned out as a result of taking on disproportionally more caregiving responsibilities for children and older family members. 
Continuous and frequent communication — checking in on how workers are doing — happens relatively rarely at many companies. Currently, only 17% of companies survey their employees on at least a quarterly basis, according to a recent poll of 200 executives across industries conducted by Workday and Gatepoint Research. Most executives — just under half — surveyed their employees on an annual basis.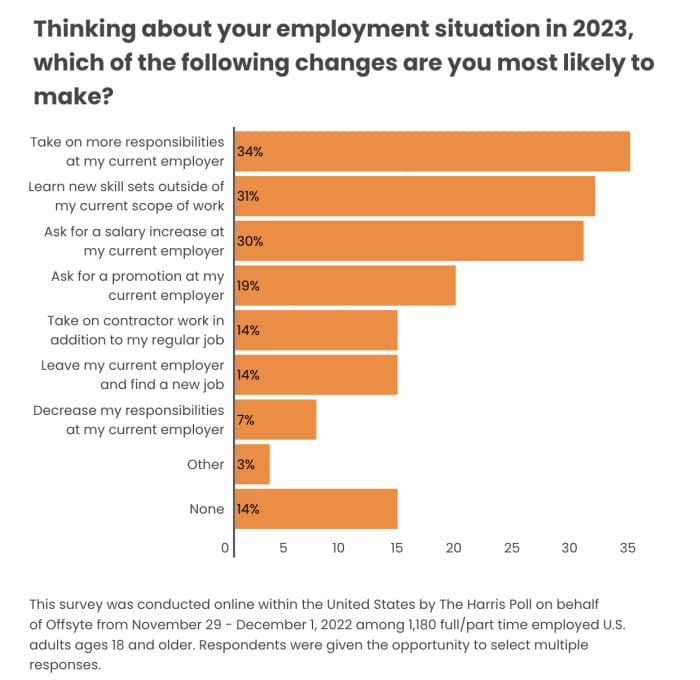 Employee well-being and desire for career growth go hand in hand
While pay is important — 30% of workers said they plan to ask for a raise in the coming year — it's not necessarily the most essential aspect of a job, the Offsyte report found.
Employee well-being and career growth often go hand in hand, Guo said. If employers provide better support for their employees, then people will want to pursue more opportunities within their own company.
"'Employee expectations have fundamentally changed, and the progress we've made cannot be undone.'"

— Qualtrics chief workplace psychologist Dr. Benjamin Granger

But research suggests that employees who are burned out, perhaps unsurprisingly, tend to be less productive and less engaged. And the opposite also appears true. In a separate survey by Qualtrics
XM,
+2.32%
in November, 63% of workers with good work-life balance said they were willing to go above and beyond, whereas only 29% of workers with poor work-life balance said so. 
"Employee expectations have fundamentally changed, and the progress we've made cannot be undone," Dr. Benjamin Granger, chief workplace psychologist at Qualtrics, a workplace-experience management company, said in a statement. "But as the economic picture shifts and people focus on their basic needs, clear and open communication are essential. Employees want reassurance that their jobs are secure, and that they'll get some relief from burnout after the disruption brought on by the confluence of COVID, an economic downturn and geopolitical events."
Offsyte's Guo agrees that employee wellbeing is key to a more cooperative and happy workplace. "So that goes back to focusing on [employees'] mental health, providing things that help employees to be able to have a safe space to be able to talk to their managers, or create a space for team members to talk to each other and interact with each other," she said.
In fact, collaboration is top of mind among employees. The Offsyte survey found that more than 60% wish their employer would encourage more collaboration within their team and across their company. 
And when employees feel that they can speak up, change can happen, Guo added.
"As uncomfortable as it may be, having these conversations may bring topics to light that employers might not be aware of," she said. The more voices there are, the better workers can vote for the future of the workplace, she added.