The 2023 Mazda MX-5 Miata sports car is the perfect blend of handling, power, and affordability. Pricing starts at $28,050.
It's brilliant. Buy it. The end.
OK, we'll expand. Humankind has invented some really cool stuff — like space rockets, MRI scanners, Lego bricks, electric guitars, and the Swiss Army knife. To such hallowed company, we would add the Mazda MX-5 Miata, the little sports car with the capacity for big fun.
As long as practicality isn't a priority and you're comfortable enough in the cabin, driving the MX-5 Miata will be most definitely a joy.
RF: Retractable fastback
A typical MX-5 Miata is the soft-top version with a cloth roof. But Mazda also offers an RF variant in the Club and Grand Touring trims, with a power-retractable hard top in a fastback shape. The car looks more like a coupe when the RF roof is in place.
It takes just 13 seconds to open or close, and makes the MX-5 Miata more of a car for all seasons. A little extra weight is added, but not enough to dampen the experience.
2023 Mazda MX-5 Miata pricing
The 2023 Mazda MX-5 Miata starts at $28,050. That's for the Sport version which comes solely with a manual transmission. To acquire an automatic means choosing a Grand Touring model.
The Club's Brembo BBS Recaro package upgrades the brakes, alloy wheels, and sport seats (with Brembo, BBS, and Recaro products, respectively). The most expensive premium paint costs $595, and the Grand Touring version also offers fine Nappa leather in a terracotta color for $300.
MX-5 Miata Sport: $28,050
MX-5 Miata Club: $31,550
MX-5 Miata Club w/Brembo BBS Recaro package: $36,050
MX-5 Miata Club RF w/Brembo BBS Recaro package: $38,550
MX-5 Miata Grand Touring: $33,050 – Popular
MX-5 Miata Grand Touring RF: $35,350 – Popular
MX-5 Miata Grand Touring w/auto: $33,550
MX-5 Miata Grand Touring RF w/auto: $35,900
These are manufacturer's suggested retail prices and do not include the $1,275  factory-to-dealer delivery fee (destination charge).
See: Are high car prices the new normal? If you're waiting to buy a car, stand firm, experts say—it may pay off.
Fun machines in a similar financial ballpark include the Subaru BRZ (from $28.6K) and Toyota
TM
GR86 (from $28K) joint project. These come in coupe form only, with a similar approach to the MX-5 of rear-wheel drive, light weight, and modest engine power. The Ford
F
Mustang (from around $29K) feels much heavier, but does offer a lot of muscle. Or if the requirement is more for an enjoyable soft-top than a rear-drive enthusiast machine, there's the Mini Convertible from $33.8K.
Before buying a new MX-5 Miata 2-seater sports car, check the Kelley Blue Book Fair Purchase Price to know what you should really pay. The MX-5 Miata holds its value well. It is pretty much an icon at this point and Mazda has no plans to discontinue this star performer.
Check out: The cars, trucks and SUVs with the best resale value
What's new for 2023
The only change this year is the addition of Zircon Sand Metallic to the choice of exterior paint colors. It's available on Club and Grand Touring models.
As for what's next, Mazda announced we'll see a Miata with "some form of electrification" in 2026.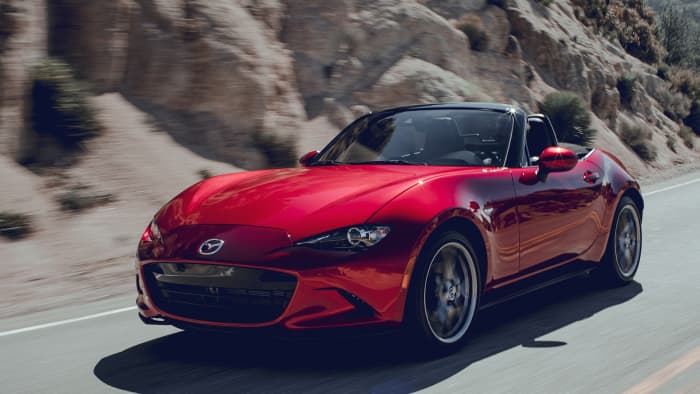 Driving the 2023 Mazda MX-5 Miata
We've met engineers working for Mazda who own an MX-5 Miata and drive it just for the thrill. That's an emphatic endorsement right there.
Sure, you could buy a Porsche
POAHY
718 Boxster, a BMW Z4
XE:BMW
or even a Corvette and enjoy greater power while still doing the whole top-down thing. But they're more expensive and, frankly, the MX-5 Miata's 181 horsepower is ample enough for public roads, while the handling still works well on a track.
Nor does it take an experienced road warrior to enjoy. The MX-5 Miata's charms are easy to access. So someone new to the discipline of rear-wheel drive and perhaps even a manual transmission couldn't make a better choice than this.
The MX-5 Miata is involving — it's not just transportation. The steering is communicative, the suspension is precise yet still bearable for everyday driving and/or longer trips. We've racked up hundreds of miles in the MX-5 Miata and would gladly do more at the drop of the proverbial hat.
One thing to think about is the Club version. It comes with a stiffer Bilstein suspension, front strut tower brace for extra rigidity at the front end (sharpening up the steering), and a limited-slip differential enhancing rear-wheel traction. Give this version a test drive before settling on a trim level, just in case it might be too firm for your tastes. After all, the other versions are perfectly fine.
Intimate interior
It's the opposite of that "you must be this tall to ride" theme park notice. The narrow 2-seater quarters and low windshield of the 2023 MX-5 Miata make it effectively unsuitable for the biggest and broadest members of the motoring public, sadly.
The passenger footwell has to give up space to the transmission tunnel, there's no glove box, and not much space for phones. As if any of that mattered.
What does matter is the driving position, low to the ground for the best seat-of-the-pants perception of how the car is behaving. The way the right hand falls naturally onto the gear lever. And the uncluttered dashboard.
Just a couple of gripes: When the roof is down and the sun is behind, the infotainment display reflects so much light that it's impossible to tell what it might be saying. And the 4.5-cubic trunk is really only big enough for a couple of soft bags with a weekend's-worth of luggage.
Our favorite features and tech
Manual transmission
It might seem like a stick-shift belongs in the dark ages, but it's so right in this car, adding to the involvement. As the saying goes — the more you put into something, you more you get out of it. This unit has one of the sweetest shift actions we've ever encountered.
Rear-wheel drive
If there was more power, there might be a higher likelihood of the car's back end sliding out if someone overcooked it going into a corner. But the setup in the MX-5 Miata is so wonderfully progressive and benign that it's easy to control.
Apple CarPlay/Android Auto
Despite the scarcity of space for devices, the MX-5 Miata does at least have smartphone integration as standard. It goes wireless in the Club and Grand Touring trims, so there's no need to take the phone out of your pocket or purse.
Kinematic Posture Control (KPC)
This is about the car's posture, not the humans inside. The MX-5 Miata has always had superb cornering talents. But since last year, they've been enhanced by KPC, which applies subtle braking to the inside rear wheel through fast turns. It makes the steering feel more linear, reduces any body roll, and contributes to the general stability.
Bilstein shock absorbers
These come as standard in the Club trim. Bilstein is a specialist company supplying car makers like Porsche and BMW.
Brembo BBS Recaro package
Brembo
IT:BRE
supplies brakes for the likes of Ferrari
RACE,
BBS alloy wheels are highly regarded in the industry, and Recaro makes great racing seats — they're heated here as well. Available with the Club trim.
Also on MarketWatch: Follow these 3 investment themes in 2023
Engine and transmission
Everything Mazda has put into or left out of the 2023 MX-5 Miata makes perfect sense. The company decided not to install a turbocharged engine. Instead, this 4-cylinder unit makes its maximum output at quite high revs, allowing the driver to modulate the throttle for fine control of engine speed.
The standard transmission is a slick 6-speed manual. Again, a great choice. It engages the driver. For those unwilling or unable to use a stick-shift, a 6-speed automatic transmission is available with the Grand Touring trim.
The other inspired choice is rear-wheel drive. The front-engine/rear-drive layout of the MX5-Miata is classic sports car and well balanced. All-wheel drive is not offered. You could always buy a set of winter tires if you live in colder latitudes.
Mazda recommends using 91-octane premium gasoline.
2.0-liter 4-cylinder engine
181 horsepower @ 7,000 rpm
151 lb-ft of torque @ 4,000 rpm
EPA city/highway fuel economy (2022 figures): 26/34 mpg (manual), 26/35 mpg (automatic)
More MX-5 Miata fuel economy information is available on the EPA's website.
Also see: These cars, trucks, SUVs, minivans and EVs are best buys for 2023
3-year/36,000-mile warranty
Mazda's new-car warranty is for three years or 36,000 miles, whichever happens first. The powertrain is covered for five years or 60,000 miles. These are typical in the non-luxury sector.
KBB's car review methodology.
This story originally ran on KBB.com.