The Girl Scouts are known for being smart cookie sellers. But the organization is also working to keep its girls rolling in dough as they grow up. 
In fact, just in time for the new Girl Scout cookie season, Charles Schwab
SCHW,
-6.51%
has teamed up with the Girl Scouts of the USA to "modernize and relaunch" financial literacy badges for girls from kindergarten through high school, both organizations announced on Thursday. The Girl Scouts have had financial literacy badges before, but the 13 new ones have been updated (with some insight from Charles Schwab) to include current topics like exchanging money over apps, and fraud protection.
"It was time for a refresh," Chris Sally-Davis, the senior director of the Girl Scouts Volunteer Experience & Program Delivery, told MarketWatch. She's also got two daughters of her own in the Girl Scouts program. 
"The world is changing, like how we talk about money, the language we use … whether that be understanding different ways of exchanging money, now that we have lots of apps that we didn't have 10 years ago when our last round of (money-related) badges was created," she said. "We knew it was important for us to stay current and continue to help girls learn in this hands-on collaborative environment." 
And the financial literacy curriculum is tailored to age and interest. So for example, the youngest troop members — Daisies and Brownies in kindergarten through third grade — will learn about the difference between things we need and the things we want (aka essential vs. discretionary expenses), as well as how to identify the different types of U.S. currency, like the various dollars and coins, which they may not have been exposed to in the digital age. They'll also be introduced to the concepts of saving and budgeting.
"It's super important that girls earn this badge before they start selling cookies, so they understand what they're touching and feeling and doing with that money," said Sally-Davis. (And, yes, cookie season launches this month, including the new Girl Scout cookie flavor, Raspberry Rally.)
But Juniors and Cadets In grades four through eight will expand on those early lessons to learn about tracking their spending and creating a budget. They will also be introduced to investing, and they will learn about how to protect their money and their information. And they will also start learning about some of the external influences that might influence their money habits, such as social media influencers and marketing. 
And finally, the Seniors and Ambassadors in high school will further sharpen their budgeting skills, learn about credit and how to responsibly use credit cards, and they will explore investing and wealth management. They will learn about inflation. And they will also talk about the big purchases they might make throughout their lives, and how to save up for them.
And in every tier, the girls will be working with active role models and supportive adults to help them master these financial concepts. 
"The list goes on and on," said Sally-Davis. She noted most badges can be earned within a few hours over a couple of troop meetings, but it's hoped that troops will also go on field trips to financial institutions or college campuses, or perhaps invite speakers from local companies or community organizations to come in and speak with troops to share their insight and make learning about money management more fun. And as an added bonus, Sally-Davis mused that the revised financial literacy program may also help some of the adult volunteers in each troop grow their own financial know-how.
The goal is to help close the financial gender gap. Research from Charles Schwab shows that boys are more likely than girls to be taught about wealth-building topics like investing, for example, while girls tend to be schooled in topics like household money management, budgeting and saving, instead, that fall along societal gender stereotypes. 
"In business, women are scarce in top leadership and entrepreneurial positions, representing just 5% of CEOs and 12% of other top executives," said Wendy Lou, chief revenue officer at Girl Scouts of the USA, in a statement. "The new and updated GSUSA financial literacy programming is designed to empower and equip Girl Scouts as they contemplate career and personal aspirations, develop the skills needed to make a difference in their own lives and the world, and open an accessible pathway for girls to fill these roles."
To be sure, plenty of people could profit from financial education. The most recent TIAA Institute survey found only about half of U.S. adults could pass its financial literacy quiz. (MarketWatch also created a financial literacy quiz to test yourself here.) Americans think they lost an average of $1,819 thanks to financial illiteracy in 2022, according to a National Financial Educators Council survey of 3,000 people. And when the council extended that figure to represent trends among all 240 million U.S. adults, the estimated total money lost due to financial illiteracy passed $436 billion in 2022.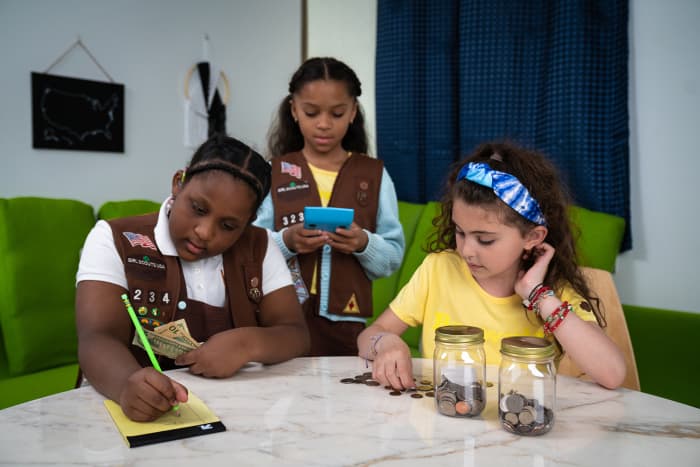 But women in particular suffer from the financial literacy gap. According to Standard & Poor's Global Financial Literacy survey, women in the U.S. and throughout the world display less financial literacy than men. American women earn just 85 cents for every dollar their male co-workers make, and women also report higher levels of stress about money, and they are more likely than men to say they feel stress about money all or most of the time, according to the American Psychological Association. And while women live longer than men on average, they're more likely to have less – or no – money saved for retirement than men. 
So the earlier women can become empowered to make more money and to manage it wisely, the better. "It's detrimental to send our girls out into the real world without the education and tools that can lead to financial independence," said Carrie Schwab-Pomerantz, president of Charles Schwab Foundation and former Girl Scout, in a statement.
This isn't the first time that the Girl Scouts have recognized the merits of financial literacy. In fact, the Matron Housekeeper badge first introduced in 1913 pushed girls to understand how groceries were sold (by package, pound or bulk.) And the first badge devoted to financial literacy — the Economist Badge, offered between 1922 and 1928 — taught girls to track earnings and allowances, as well as to oversee their family's groceries expenses and menu planning, in order to use food economically. Plus, in recent decades, badge programs such as Business-Wise, Consumer Power and Money Sense have promoted entrepreneurship, earning, saving and spending money wisely.
And, of course, there's the long-running history of selling Girl Scout cookies. Girl Scouts sell about 200 million boxes of cookies — nearly $800 million worth — during each cookie season, making it the world's largest entrepreneurial program for girls. What's more, each troop votes on what to do with its cookie money — whether that be funding a camping trip, or setting up kits to give to the homeless.
The goal is for the Girl Scouts to come away armed with the knowledge they need to feel confident managing their money in life and business as they grow up. 
"In order to thrive, they need to have that financial knowledge," said Sally-Davis, "and we want to help them get there."